About Us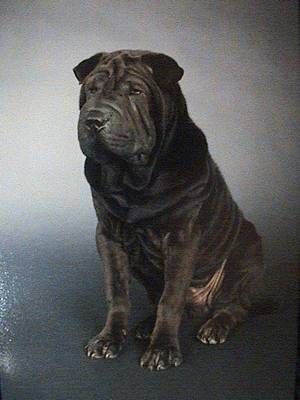 In 1993 my mother (Kay) purchased our first Shar-pei, i was only 8 years old and i instantly fell in love with the breed. His name was Yooshiwoo Pandason from Dahfang Kennels in NSW, he was a solid Black Horse Coat male (photo above) his lines originated from the U.K. Our second shar-pei was Dahfang Honey Rolls also from Dahfang kennels, she was a Red Fawn Brush Coat Female. Her lines were import by Dahlet, they imported a girl from the U.S.A via U.K. American Maid (lovely chunky horse coat). Her sire was CH Gelds A Cappella a Mr. Dillon dam Fingertail be bop mai tai. Soon after they purchased frozen semen from two top stud dogs from well known show winning kennels Acappalla Hit the Jackpot and Golds Mr. Dillion.
In 1999 we mated Dahfang Honey Rolls and Yooshiwoo Pandason had our first litter which consisted of 2 blacks and 3 fawn. We kept 2 from this litter Sandyshreu Dimples (a stunning solid black Horse coat female) and Sandyshreu China Doll (a meat mouth Red Fawn Brush Coat female). In 2000 they mated again with the litter consisting of 2 apricot dilutes and 3 fawn, from this litter again we kept 2 - Sandyshreu Zues (a boofy head Sable Horse coat male) and Sandyshreu Miss Muffin (a stunning apricot dilute Brush coat female). In 2003 they mated again producing a litter of 5 fawns, from this litter we kept Sandyshreu Ming (a stunning fawn horse coat female). And in 2004 they mated for the final time, producing a litter with 4 fawn brush coats.
In 2003 Sandyshreu China Doll had her first litter producing a huge litter of 9, from this litter we kept 2 pups - Sandyshreu Wada Boof (a huge headed Red fawn brush coat male) and Sandyshreu Fluffy Bear (our first bear coat, a STUNNING red fawn bear coat female).
In 2004 Sandyshreu China Doll had her second litter consisting of 8 fawns.
This was the last litter we had for awhile at Sandyshreu kennels, sadly we were struck down by traduity....
In 2005 on the queens birthday we had returned home after a day spent with family to find that the back gate had not be locked properly, our neighbour came screaming saying that our dog had been hit by a car! When we asked which one she said ALL OF THEM!
To our horror we had lost Sandyshreu Dimples and Sandyshreu Miss Muffin, Sandyshreu Fluffy Bear had been hit but was still alive.
As a result Fluffy had major surgery on her front leg which consisted of screws, bolts and springs. Fluffy managed with her leg for most of her life until in 2009 it had to be removed due to arthritis.
In 2005 we decide to introduce new lines into our kennels, we had heard from other breeders about colours such as blue and lilac. We decide that this is something different and exciting we could work towards producing - blue and lilac healthy, good temperments and over all nice looking Shar-pei.
We found a breeder in Victoria by the name of Rumetomove, she had just had a litter of 3 boys - 1 Black, 1 Blue and 1 Isabella. I decided to buy the Isabella Brush coat - Rumetomove Diablo.
Later in the year we purchased a Blue brush coat female from the now retired Dahlet kennels her is Dahlet Gin Gin Blue. To date Gin Gin had produced 1 litter consisting of 6 pups - 2 black, 3 five point reds, 1 chocolate.
In 2006 we purchased male from Amibas kennels in QLD, his name is Amibas Red Barron. To date he has sired 3 litters and produced blacks, five point reds, white dilutes and chocolates. bred to the right female can could produce blues and lilacs.
In 2007 we bought a female from Amibas kennels, he name is Amibas Bo-bae. She is a stunning Lilac Brush coat, to date she has had 2 litter consisting of 4 in each litter. Both litters had 2 chocolate and 2 whites.
In 2008 we decided to import for the first time, we purchased a stunning Isabella Bear coat female from the USA. Her mother is a Lilac horse coat and her father is a Blue brush coat and her grandfather is a lilac on white flowered.
She arrived early 2009.
In 2009 we were planning on purchasing semen from overseas, and were looking for a strong flowered carrier, that had blue and lilac in their lines, plus bear coats! We knew we were asking a lot so we didn't have our hopes up but we thought it wouldn't hurt to send a few emails off to other breeders.....
We weren't expecting to get a reply from one of the BEST breeder in Brazil!!
The kennel is Wrinkle Eyes, and they told us they had a 8 week old puppy that was a bear coat, flowered and carried blue and lilac!!!!
His name is Wrinkle Eyes Weiku Bear (Flowered, red on white and Black bear coat mini).
Weiku is due to arrive in Australia Feb 2010.
At present time we have 3 males; one Isabella Brush Coat (Rumetomove Diablo), one 5 point Red Brush Coat (Amibas Red Barron), and one Flowered Bear Coat IMP Brazil (Wrinkle Eyed Weiku Bear) and we have six females; one Red Bear Coat (Sandyshreu Fluffy Bear), one Isabella Bear Coat Mini (Fabulous Song Ye IMP USA) one Fawn Horse Coat (Sandyshreu Ming), one Blue Brush Coat (Dahlet Gin Gin), one Lilac Brush Coat (Amibas Bo-Bae) and one Chocolate Brush Coat (Sandyshreu Mocha).
Our main goal over the next few years is to improve the Blue and Lilac lines and to introduce the flowered varity into Australia, we plan on doing this by using the lines that are here in Australia and our imported lines from the USA and brazil.
At Sandyshreu we treat our Shar-Pei like a hobby not a business, we don't rely on the litters as our main source of income. When our Shar-pei have finished being shown or bred we don't sell them or put them down, they stay here with us relaxing until there time to pass. We focus on each one of our shar-pei, all of our shar-pei grow up in a family environment and around children. We are located in the heart of Sydney, 10 minutes from the Airport, City and Bondi.
We export all over the globe
Feel free to enquire about our shar-pei, we have litters twice a year, we update our website regularly and answer emails daily.
If you are new to the breed don't hesitate to email, we are more than happy to answer any questions you have!
Contact Details
Kay Peart
Sydney CBD, NSW, Australia
Phone : 0406720716
Email :
[email protected]