First Original Shar-pei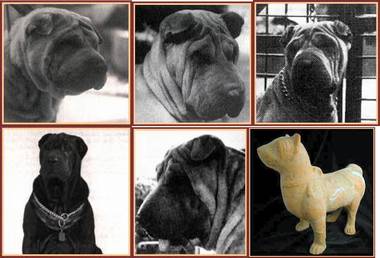 DOWN-HOMES ANNE REVIVAL
BREEDER: Matgo Law
OWNER: Lois Alexander
Anne Revival (Annie) shares the same honor as Sweet Pea being a foundation dog of Down-Homes Kennels. She was also thought to be the source of the bear coat gene scattered throughout the Western Shar-Pei gene pool as her litter mates had long coats.
DOWN-HOMES SWEET PEA
BREEDER: Down-Homes Kennels
OWNER: Matgo Law
Sweet Pea holds a special place in Western Shar-Pei history. You would be very hard pressed to "not" find him as an ancestor to every Shar-Pei known to exist today as he was a primary foundation stud dog of Matgo Law's Down-Homes Kennels. Oddly enough he was a flowered Shar-Pei which now disqualifies a dog from entering the show ring and stranger yet it was Matgo Law that helped promote this disqalification.
DOWN-HOMES LITTLE PEA
BREEDER: Matgo Law
OWNER: Lois Alexander
Little Pea was the third Shar-Pei imported from Matgo Law to the U.S.A. She went to Lois Alexander of Siskiyou Kennels. Little Pea was the offspring of Down-Homes Sweet Pea ex Down-Homes Anne Revival and was whelped on November 17, 1971. She had been bred to her father, Sweet Pea, prior to leaving Hong Kong and produced the first litter of Down-Homes pups in the U.S.A. on December 29, 1973 however none lived past the age of three years old. She was given CSPCA registration #100.
DOWN-HOMES MUI CHU
BREEDER: Matgo Law
OWNER: Ernest & Madeline Albright
Mui Chu was the second Shar-Pei to be imported to the United States by Matgo Law. This Fawn Female arrived on August 20, 1973 in very poor health to new owners The Albrights. She was able to be saved but lost her litter she was to have after being bred in Hong Kong prior to her arrival to the U.S.A. Mui Chu became the first dog shown in the United States when she appeared in December 1973 at the Golden Gate Kennel Club Show. She was born in 1971 and died in January 1976. She was given CSPCA registration #2.
DOWN-HOMES KUNG FU
BREEDER: Y.K. Leung
OWNER: Mr. & Mrs. Victor Seas
Kung Fu was the first dog to be imported by Matgo Law. The breeder however was not Mr. Law but Y.K. Leung. The honor went to Mr. & Mrs. Victor Seas, of Walnut Lane's Kennels, Claridon Ohio, on July 6, 1973. Kung Fu was a black male whelped on May 28, 1973 by Luck-Son ex Kay-Fay and passed on Thanksgiving Day in 1979. He was given CSPCA registration #6.
Contact Details
Kay Peart
Sydney CBD, NSW, Australia
Phone : 0406720716
Email :
[email protected]