Origin Of Blue Shar-pei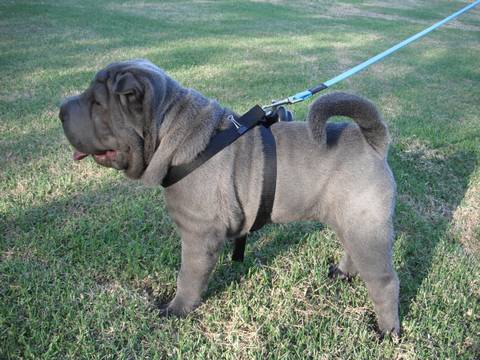 Sandyshreu Blu Baily
In 1985 Zella Llewellyn of Texas discovered an intriguing surprise in one of her litters...a blue housecoat puppy she named Zl's Blue Genes. This dog, became a CSPCA Champion and is known as the first official Blue Shar-Pei in the breed. Blue Genes lived to be 12 years old.
In researching his pedigree it was discovered that a line breeding between a particular pair produced this first blue. The only other original blue line was developed by the Deborah Kiper (Kipers Shar-Pei) from a then recent imported line known as Kipers Indeed It's True. From that time to now, no other original Blue lines have been discovered. ZL's Blue Genes and Kiper's Indeed It's True are the 2 foundation lines on which all today's blues can be traced back. Throughout the years these lines have been out crossed with non blue lines to produce many varied pedigrees.
The blue color family consists of 4 colors... light cerulean blue in the horsecoats. A dark inky blue develops in the brush coats even though they are born a light blue. Isabella is a blue masked cinnamon color. Oddly, some Isabellas begin life as all blue except for a faint fawn spot on the top of their head. By the time Isabellas reach 10 weeks of age, they go though a complete color change from Blue to Isabella. Just as often Isabellas are born cinnamon/blue and never change. The blue masking fades as the puppy reaches adulthood and the cinnamon color grows stronger. Isabellas can be dilute or non dilute. Finally, a color Shar-Pei breeders call Lilac, which is a common color found in Weimaraners, IG's and several other breeds. This color is found only as dilute in Shar-Pei. The Lilac shade can vary from a dull flat almost chocolate to a light silvery lilac color.
AKC accepts all solid colors in Shar-Pei, without penalty, but at this time does not acknowledge any other color than BLUE in the blue family group. Most breeders, in order to identify blue in the pedigree, often register Isabella and Lilac as Blue... Blue can be integrated into any pedigree in 2 generations. To produce the blue color, both sides of the pedigree MUST carry a blue gene. Blues in this breed, unlike some other breeds, do not have a tendency to produce any unique auto immune or coat problems.
Contact Details
Kay Peart
Sydney CBD, NSW, Australia
Phone : 0406720716
Email :
[email protected]